You are here: Home > Gum Removal
We found 2 results matching your criteria.
| | |
| --- | --- |
| Choose a sub category below: | |
| | |
Attention Cleaning contractors: Start making money removing gum today!
Start your own successful Gum Removal Business!
The Problem
Chewing gum is everywhere! Look at the sidewalks, those black spots are chewing gum. Have you ever tried to remove them? Traditional methods are not effective. High pressure (power washing) is the more common method used in attempting to remove gum. There are inherent problems with this method. Due to the nature of the process, it is loud, uses up to 8,000 gallons of water a day, erodes the surface of the sidewalk or other surfaces due to the high pressure and is typically used in the evening hours when customers or pedestrians are gone. This is typical because of the noise and large amounts of water used. In most cases, it does not remove the gum! Other typical methods include scraping, use of harsh chemicals and freezing/scraping. These also have little success. These methods may be used outside, but what about inside? Many businesses have gum on carpets, furniture and walls. The processes mentioned above do not lend themselves to be used indoors. More challenges for business owners, cleaning companies and building owners alike.

The Solution: AstraSteam Gumblaster - Gum Removal cleaning equipment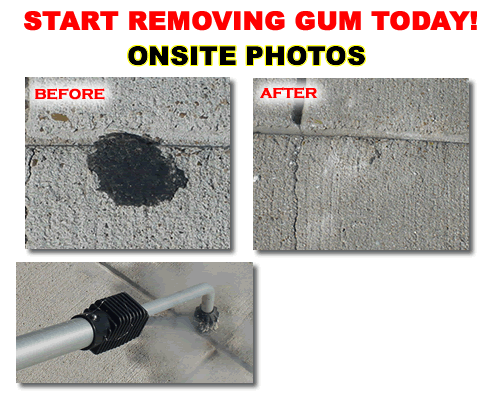 Imagine cleaning equipment that can remove all kinds of chewing gum from virtually any surface, efficiently, affordably and without disrupting normal business operations.
While it devours gum indoors and out, our patented equipment is gentle to surfaces and safe for the environment. Our AstraSteam Gumblaster - Gum Removal units, for example, is specially engineered to produce steam at high temperatures with low pressure, using only four to eight gallons of water a day. AstraSteam Gumblaster proprietary cleaning agent, developed by our chemists in Holland, is a neutral chemical with a pH balance of 7.0. It is extremely effective yet completely non-toxic. The small brush at the end of the cleaning wand works carefully with the steam and cleaning agent to disintegrate gum in seconds. The operator exerts only minimum pressure and uses different brushes depending on the surface to be cleaned. The gum is heated to 300 degrees with 96% dry steam, our special cleaning agent is mixed with the steam through the wand and the operator finishes the job with slight pressure.
You will never need to get on your knees or have a sore back from wrestling with high pressure hoses again! Why do so many contractors, businesses & institutions use AstraSteam Gumblaster - Gum Removal Machines ? The bottom line is that our patented gum removal equipment out-performs the traditional methods of scraping, harsh chemicals and power washing. We do this without disrupting day-to-day business operations.
From airports to zoos, The AstraSteam Gumblaster - Gum Removal Machine is eliminating gum pollution both indoors and out in locations such as:
Sports Arenas
Theaters/Cinemas
Concert Halls
Schools
Universities
Museums/Monuments
Hospitals
Shopping Malls
Government Buildings
Libraries
Zoos
Amusement Parks
Restaurants
Train Stations
Subways
Airports
Gas Stations
Supermarkets
Bowling Alleys
Swimming Pools
Apartment Complexes
Motels
Hotels
and more!
AstraSteam Gumblaster - Gum Removal Machines will eliminate your gum problems like nothing you have ever seen! Call today to learn more about our solutions. Toll Free 1-877-824-7763.